WORTH MAGAZINE ARTICLES
---
We are excited that Richard P. Slaughter Associates has partnered with Worth magazine to provide articles for the bi-monthly publication. Slaughter Associates has long focused on sharing our knowledge and educating our clients, potential clients and partners, so this opportunity was a natural fit for us.
---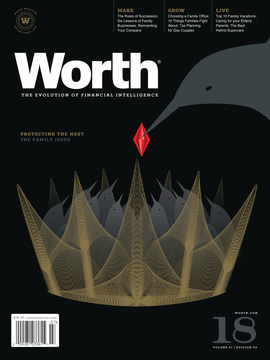 The time has finally arrived. You have spent years building your nest egg and are now ready to fully enjoy retirement. There is just one problem: You are a bit worried whether your portfolio will support your standard of living over the years, even decades, of your retirement.
Richard P. Slaughter Associates, Inc. is featured in Worth® 2019 Leading Wealth Advisor™, a special section in every edition of Worth® magazine. All persons and firms appearing in this section have completed questionnaires, have been vetted by an advisory group following submission by Worth®, and thereafter paid the standard fees to Worth® to be featured in this section. The information contained herein is for informational purposes, and although the list of advisors presented in this section is drawn from sources believed to be reliable and independently reviewed, the accuracy or completeness of this information is not guaranteed. No person or firm listed in this section should be construed as an endorsement by Worth®, and Worth® will not be responsible for the performance, acts or omissions of any such advisor. It should not be assumed that the past performance of any advisors featured in this special section will equal or be an indicator of future performance. Worth®, a Sandow Media publication, is a financial publisher and does not recommend or endorse investment, legal or tax advisors, investment strategies or particular investments. Those seeking specific investment advice should consider a qualified and licensed investment professional. Worth® is a registered trademark of Sandow Media LLC. See "About Us" for additional program details at http://www.worth.com/index.php/about-worth.