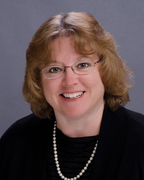 Kirsten Slaughter
Corporate Vice President and Corporate Treasurer
Joined Slaughter Associates in 1993
---
Education
B.A. in Managerial Studies from Rice University
Expertise
Kirsten Slaughter is the Corporate Vice President of Richard P. Slaughter Associates, Inc., handling accounts payable, payroll, and related bookkeeping and human resource activities. She also assists with special projects.
Kirsten's service to the community
Kirsten has been actively involved with Leander Independent School District for over 16 years in the classroom, office, PTA, vision and hearing team, and her son's baseball team. She has also volunteered at her church for many years as a pre-school Sunday school teacher, AWANA secretary, and a Vacation Bible School coordinator and teacher. In addition, Kirsten volunteered with the Girl Scouts of Central Texas as a troop leader and service team for 12 years.
Things to know about Kirsten
What hobbie do I enjoy?
"Spending time with family and friends, attending high school and college sporting events, playing games, and reading."